We have completed the design and first fix installation of a Zehnder Q350 MVHR system with ComfoTube ducting into a 100-year-old cottage that's undergoing a low energy retrofit upgrade. The MVHR system will improve the indoor air quality, comfort and energy efficiency, but also protect the century-old building fabric by ensuring indoor humidity is dealt with consistently.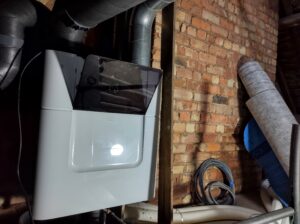 The cottage is located in a semi-rural setting which, although far from the city, can have poor outdoor air quality, particularly on very cold days when rural homes fire up their oil boilers and open fireplaces.
The Q350 MVHR is located in the loft on a wall hanger, with pre-insulated ducting to roof cowls for the intake and exhaust of air. 75mm ComfoTube ducts run along the externals of the loft eaves and drop down carefully into the first floor rooms. Ducts also drop down to the lower floors using a small amount of boxing at the sides of the chimney stacks.
The cottage has a floor area of 130m2 and didn't previously have any ventilation – no trickle vents or kitchen/bathroom extractor fans, so the MVHR system is a vast improvement.
Old homes require careful retrofit construction techniques
The cottage is being very sensitively renovated with:
Lime plaster and 40mm woodfibre insulation on the external solid brick walls – these are vapour permeable materials which allow water vapour to pass through the building fabric harmlessly
Increased fabric airtightness via the closing of chimneys, airbricks and the use of Tescon Vana and Contega Solido SL airtight tapes on window reveals and intermediate floor joists
Rockwool and PIR insulation at roof rafter level
New plumbing and re-wiring
Accentuation of period features previously hidden by 1970s re-decoration
The client said:
"A century-old cottage has to be renovated with great respect for the building fabric. We knew that as we improved the building with better insulation, we had to improve ventilation to prevent condensation and mould that could otherwise damage the beautiful timber beams and original brickwork.
The Zehnder MVHR is exceptionally quiet, uses a few pence of electricity per day and makes the indoor air feel lovely and fresh."