Our MVHR design and commissioning team has recently completed the detailed ductwork design, supply of materials and balancing of our Mechanical Ventilation with Heat Recovery system (MVHR) at a highly sophisticated new build home in Surrey.
As part of our turnkey MVHR design, supply and commissioning service we've issued the MVHR Ventilation Airflow Measurement and Commissioning Certificate for Building Control following our final site visit to balance and handover the system at project completion.
Good design is vital
The luxurious home was designed by the architect and client, and built by her partner as main contractor.
A polished concrete floor, fresh, white walls and minimalist colour tones and furniture provide an airy, open feeling to the new home.
A few of the MVHR supply valves in rooms have been powder-coated to the base paint colour of the walls and ceiling: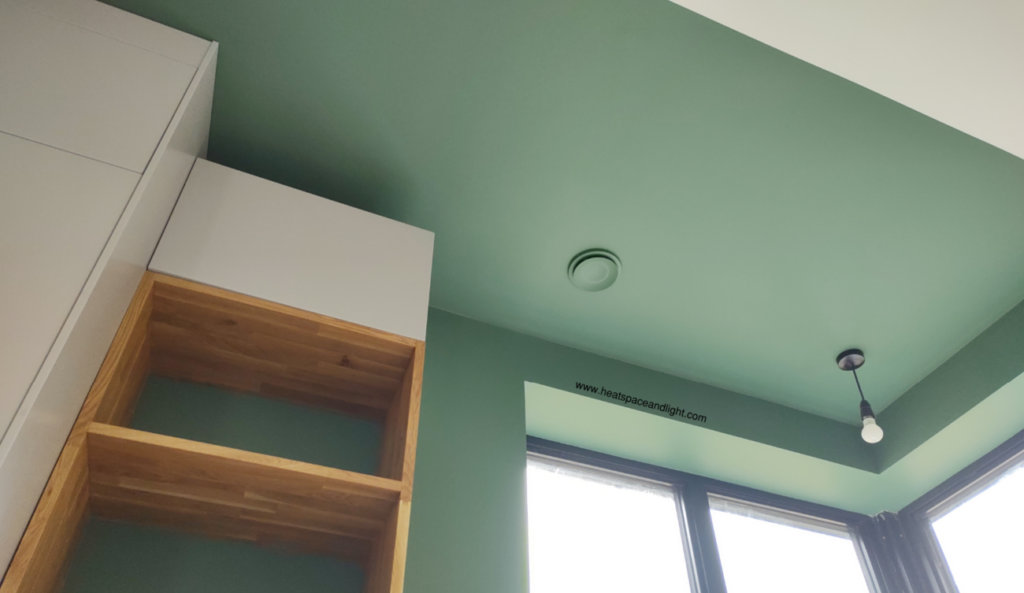 Visually the MVHR valves now blend into the background:
Fresh, filtered air is pre-tempered via the MVHR heat exchanger core to be warm in winter and cool in summer. This will ensure a healthy, comfortable and safe indoor environment all year round.
Radial ducting is ideal for residential MVHR
Although this wasn't a full Passivhaus specification, we supplied our Passivhaus Institute-accredited MVHR system complete with radial semi-rigid ducting.
Radial ducting is crush-proof, double-walled for strength and eliminates cross-talk – I've written about the benefits of radial ducting here.
The radial ducting we designed is only 75mm diameter, which allows for higher ceilings and no loss of space or boxing in. It was installed by the main contractor within the webbed joists of the intermediate floor cassette, with sweeping bends for lower overall resistance against the fan motors: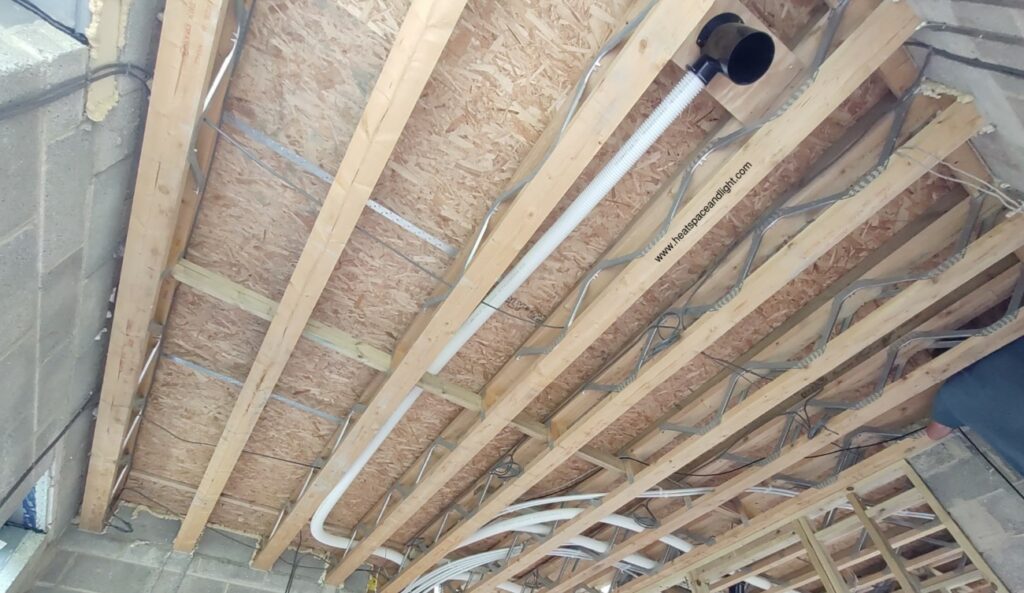 MVHR integrated with air-source heat pump and hot water cylinder
Within the plant room, the manifolds, sound drum attenuators and main unit fit comfortably within a 600mm-deep cupboard, as per the detailed design: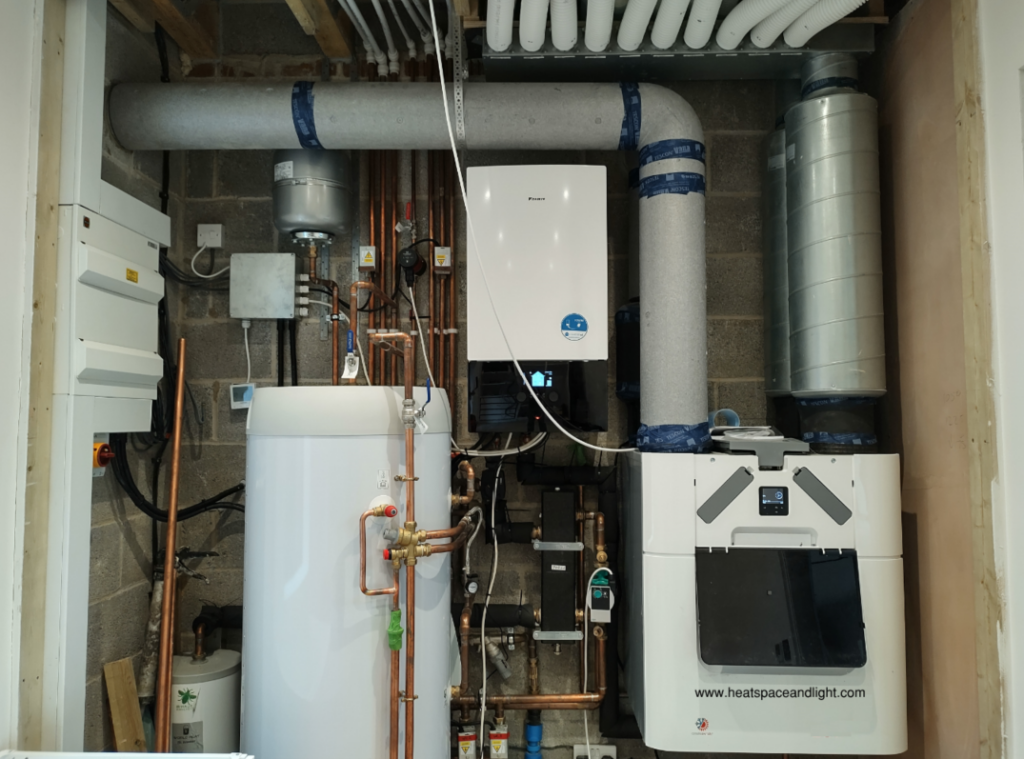 Two external ducts are insulated and lead to outside, with a significant amount of separation to eliminate the risk of short-circuiting of waste air back into the house.
All of the joints of our ductwork are fitted with gasket seals, and for additional airtightness and ductwork efficiency we also tape and seal the joints with high-grade airtightness tape.
The MVHR that Heat, Space and Light specified here is able to supply and extract air for very large new build homes of up to 300m2 floor area.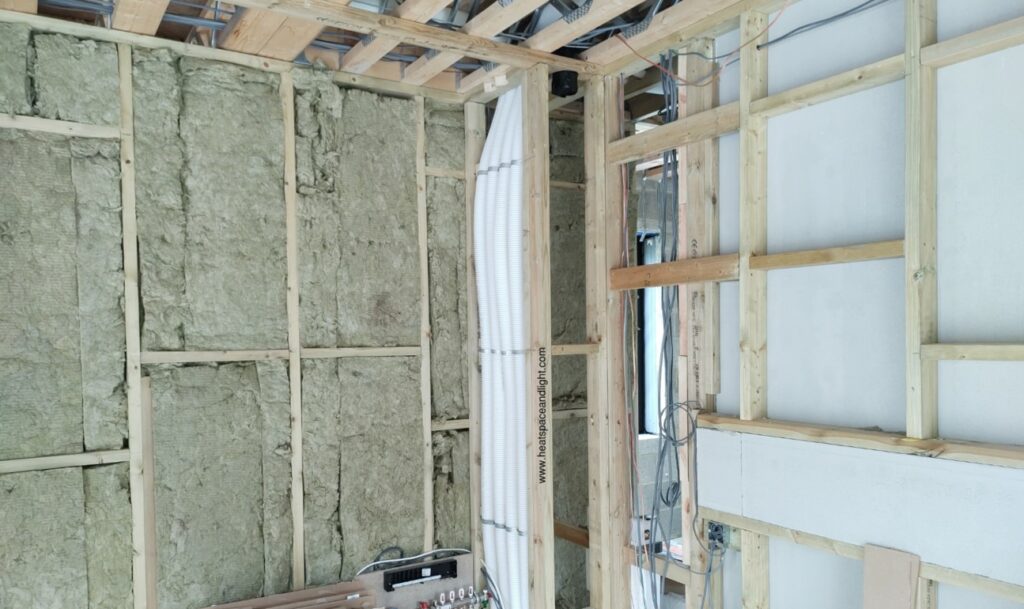 High-grade F7 and G4 filters will ensure that pollen, insects and carbon dust are kept outside, and that only fresh, filtered air enters the home via the MVHR system.
Damp, condensation and mould problems are mitigated by ensuring the MVHR system extracts warm, waste air from bathrooms and kitchens at a constant, low level – powerful enough to scrub the air of water vapour and indoor pollutants, but quiet enough to not disturb occupants.
The client is pleased that the high-end design and finish of this aspirational new build home is complemented with a high performance MVHR system to provide the luxury indoor air quality that the future home-owners desire for their peace of mind and health. Please search on Google for "Heat, Space and Light Ltd" to read all of our very positive reviews from clients.
If you'd like for us to help with your MVHR system, we can provide a quotation if you fill in our free MVHR design form here, or contact us directly.