If you're building or renovating your home and making the property's building fabric more insulated and airtight then you may be wondering where, how and from which company to buy MVHR (it stands for Mechanical Ventilation and Heat Recovery) system products.
Also known as Heat Recovery Ventilators (HRV), the premium brands in MVHR systems are (typically) all from the European continent. For this post I'll be talking about two of our favourites here in the office – the Brink and the Zehnder Comfoair ranges.
There are many more MVHR unit-makers, but we know from in-the-field experience that Brink and Zehnder are premium, reliable, the quietest units and highly-efficient.
If you'd like a free no-obligation quote for the design, supply and commissioning of a Zehnder or Brink MVHR system for your project, please submit your sketches/plans/drawings here.  
Buying a Brink MVHR unit
The Brink range are MVHR units for small to medium residential properties. The Renovent Excellent Sky 300 and 400 units are the most popular. The Renovent 300 will usually do for a small or medium-sized property with two or three bedrooms and one main bathroom, and the Renovent 450 for a larger three-storey townhouse with four or more rooms and a couple of bathrooms, as a rough guide.
These are neat units, very reliable and require the minimum of maintenance once installed, so they're perfect for most family homes.  
Buying a Zehnder ComfoAir or ComfoCool Q unit
Zehnder systems range from ceiling-mounted MVHR units for small apartments where space is a premium, right up to the Q350, Q450 and Q600 series for large homes where airflow requirements according to Passive House and Building Regs have to be up to 500m3hr. In the biggest homes you might need to buy two or three MVHR units to meet your airflow requirements – but please contact us and we'll calculate ventilation requirements for you for free.
Zehnder units have a few more bells and whistles than the other units on the market, most notably a variable summer bypass mode which helps with cooling. Given the fear of overheating in well-insulated low energy homes, the ComfoCool and ComfoPost system, which allow you to actively cool the incoming air from outside during sunny days in the UK (as rare as they are), are important additions.
ComfoCool is a nice addition to all of the other capabilities of the MVHR system, and should be considered if you prefer cooler air in bedrooms and living areas in the summer. Please contact us to find out more.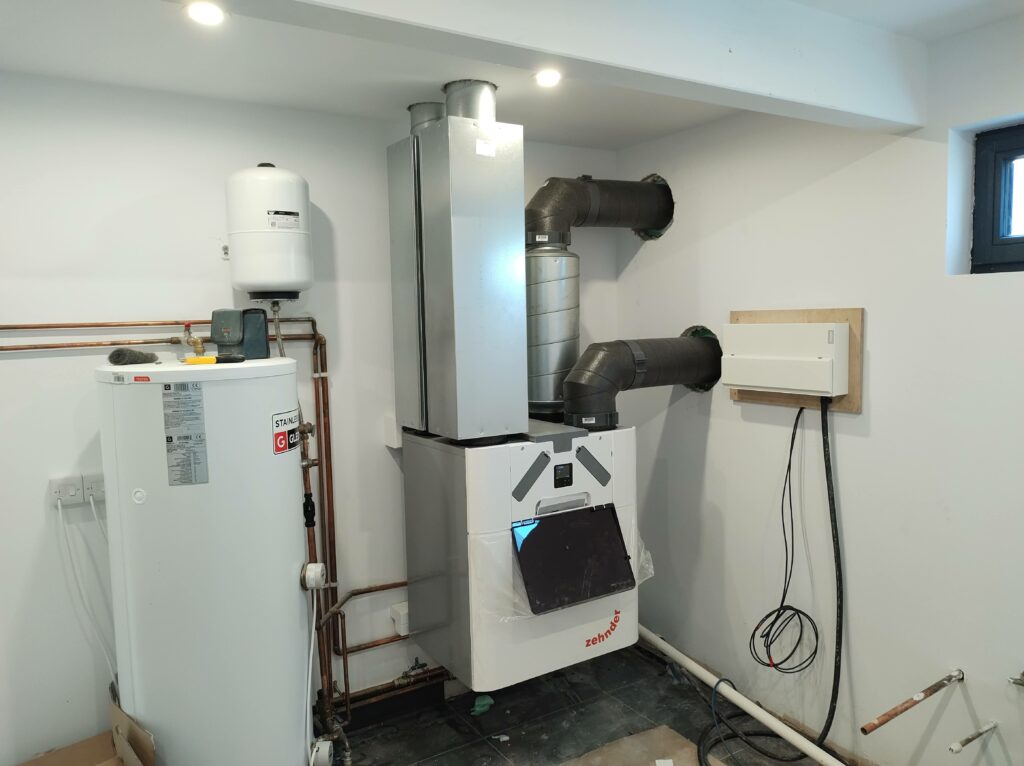 Buying an MVHR in the north of England, the southeast and Central London
No matter where your property is located in England, Wales, Scotland or Ireland you can have your MVHR system designed by low energy designers at our company – we also supply and commission MVHR systems across the UK with our own team.
As certified PassivHaus consultants we are well-experienced in designing MVHR systems for low energy buildings. If you'd like any help, guidance or pricing for your MVHR system, please contact me at patrick [@] heatspaceandlight.com.
Also, please note that you can install an MVHR system yourself – the ducting is relatively simple to fit and we make the design documents easy to follow by producing 2D and 3D schematics.
Buy MVHR direct or through your architect or designer?
MVHR ventilation systems must be designed and installed properly, so it normally makes sense that you purchase the MVHR unit through your designer – that way they can calculate the airflow rates, pressure drops, acoustic measures and type of ducting you'll require properly. Prices are normally a little cheaper than going direct, too, as designers like ourselves have already negotiated a better trade price. 
The big MVHR suppliers aren't very good at designing your system, as they tend to focus their in-house design efforts on the larger multi-residential projects such as blocks of flats and housing estates rather than single residential homes. They'll normally just provide you with a basic quote for the MVHR unit and ducting in the first instance.
In the vast majority of cases they'll then pass it over to a dedicated MVHR designer such as ourselves, who they trust to create an MVHR ventilation system design that will run quietly and efficiently.
How much does an MVHR system cost in the UK?
In terms of pricing, for designing the MVHR system in a medium-sized home it will cost approximately £550+VAT.
An MVHR system from Brink or Zehnder, including all ducting, insulation, plenums, manifolds, valves and sound drum attenuators, will cost around £4,000 ex VAT for an average home, to £8,000 ex VAT for a large home. For an itemised explanation of MVHR pricing please visit this page.
Installing an MVHR system will take five to six days and will cost approximately £2,000 to £4,000+VAT – or it's relatively straightforward to be DIY/self-installed, and we can help with guidance on this.
Commissioning an MVHR system is about £550+VAT and takes a full day including travel to balance and handover the system. This can be done post-decoration, once all the ducting has been fitted. It's best if the same company commissions the system as designed it, in order to make sure there are no performance gap issues.
If you are in the UK and are considering getting a quotation for your own Zehnder or Brink MVHR system please send us your details, or leave a comment below and I'll reply back to you.
Bad MVHR unit brands
It's worth investing in a good MVHR system from one of the more expensive brands with a long history of good operational performance. MVHR units should be whisper-quiet in operation, and the poorer units are louder than the Zehnders and Brinks of the world, so you'll have to get used to white noise if you fit a cheap unit. Contact me directly if you want to know which MVHR units I don't recommend. 
All of these views are my own based on my experience in helping clients with their MVHR system requirements. If you'd like any help, guidance or pricing for your MVHR system, please contact me at patrick [@] heatspaceandlight.com.