The Heat, Space and Light team has designed and supplied a flat 51mm semi-rigid ducting MVHR system for a home in London, in order not to lose any room height. The ducting measures a mere 51mm in height, is crush-proof and has smooth and anti-bacterial lining within the duct.
Installed by our trusted installers the ducting will sit immediately underneath the joists and in line with the plasterboard hangers, so in effect only a few millimetres of space has been lost, and the MVHR will still perform optimally – with fresh, filtered air at low air velocities and near-silent.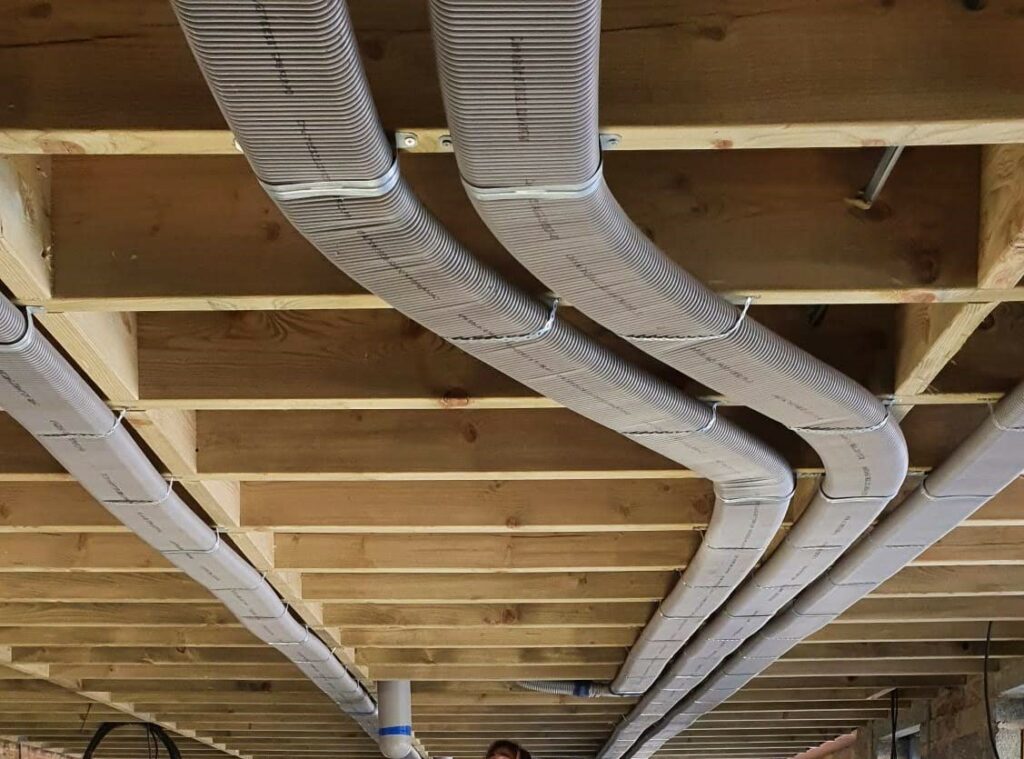 Although the duct is only 51mm in height, it is 134mm wide, which allows for a significant internal free area to carry air to each room in sufficient quantities for healthy levels of extraction and supply ventilation with heat recovery.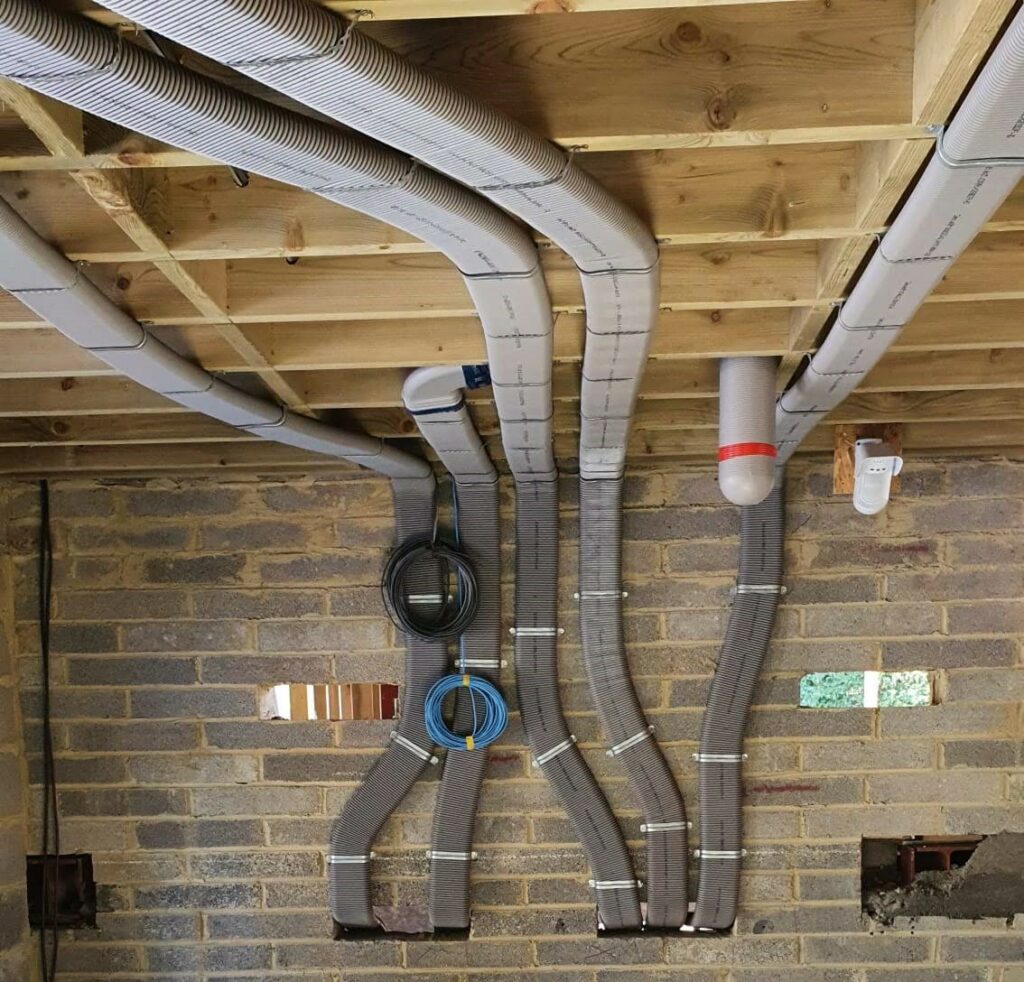 The flat ducting is double walled for strength, which makes it robust and ensures it can't be crushed or torn. The flat ducting runs out of and up a blockwork wall from the MVHR unit, located in the basement ceiling. The ducting can be bent up to 45 degrees horizontally, and beyond 90 degrees vertically.
The ducting features connectors and bend pieces, which when used are taped by our team with Tescon Vana tape, which is a type of "never dry" airtightness tape which has been stress tested for 100 years. We never use duct tape, which can dry out and fail within six months.
This is because our aim at Heat, Space and Light Ltd is to design and supply an MVHR system that will last for a very long time.
The ducts to outside are hidden in the back of a fitted wardrobe. The preinsulated ducts run vertically from the basement through the concrete floor and up into framing and to the roof outside. We ensure they are separated by two metres to prevent cross-circulation of air, as we don't want the humid, waste air from our home being pulled into the fresh air intake of the MVHR system.
Each joint features a gasket seal internally, and for extra security the team has taped the joints with Tescon Vana tape. The preinsulated ducting surpasses the Part F requirements for thermal resistance, ensuring that the ducting won't suffer from condensation on the external skin (as it carries very cold air).
Flat 51 semi-rigid ducting is a better alternative to uPVC rectangular ducting as it's smaller in height by 9mm, features less joints and is made from a higher grade material. Our team never uses uPVC ducting, unless very necessary, as it dries out and becomes brittle in its short lifetime – which causes the joints to flex and buckle.
The MVHR installation project for this new build home featuring low profile 51mm ducting is partway through, with the second fix MVHR unit still to install. We will balance and commission the airflows for the MVHR system at the very end of the project.
If you'd like to talk about your aspiration to install MVHR in your own home project, please use the Contact Us page at the top of the page, or send through your details for a free MVHR sizing and specification proposal here.