Heat, Space and Light Ltd has replaced and re-commissioned an under-performing MVHR unit with a brand new 91% efficient Zehnder MVHR in a self-built eco home in Glastonbury, Somerset.
The old MVHR was a weak link in an otherwise exceptionally high performance, energy efficient home. The new MVHR unit now features Automatic Summer Bypass, important in summer to exhaust hot and humid air directly outside to limit indoor overheating and help with cooling via MVHR.
The new MVHR also features Season Detection (useful when combining MVHR with air conditioning), and the ability to modulate airflow and show internal temperature and humidity readings.
Replacing an old MVHR with a high performance brand
The homeowner had contacted our team at Heat, Space and Light Ltd in late 2020 to discuss the in-situ MVHR system as they weren't happy with the original MVHR unit (a British MVHR brand with a history of issues related to quality and performance) and were considering replacing it.
The MVHR ducting was otherwise good quality and correctly sized, and all other eco technologies were working fine. The original MVHR was also noted to be quiet in performance.
The single-storey property was self-built by the homeowners in 2011 and features:
high levels of fabric insulation;
high quality glazing;
11kW Air-Source Heat Pump (ASHP);
underfloor heating throughout;
solar panels;
LED lighting and;
a smaller heat pump incorporated into the hot water tank.
The client said that although the stated heat exchanger efficiency of the old MVHR unit was 90%, recordings at inlets and outlets suggested it was not recovering heat optimally and operating at an efficiency of only 50%.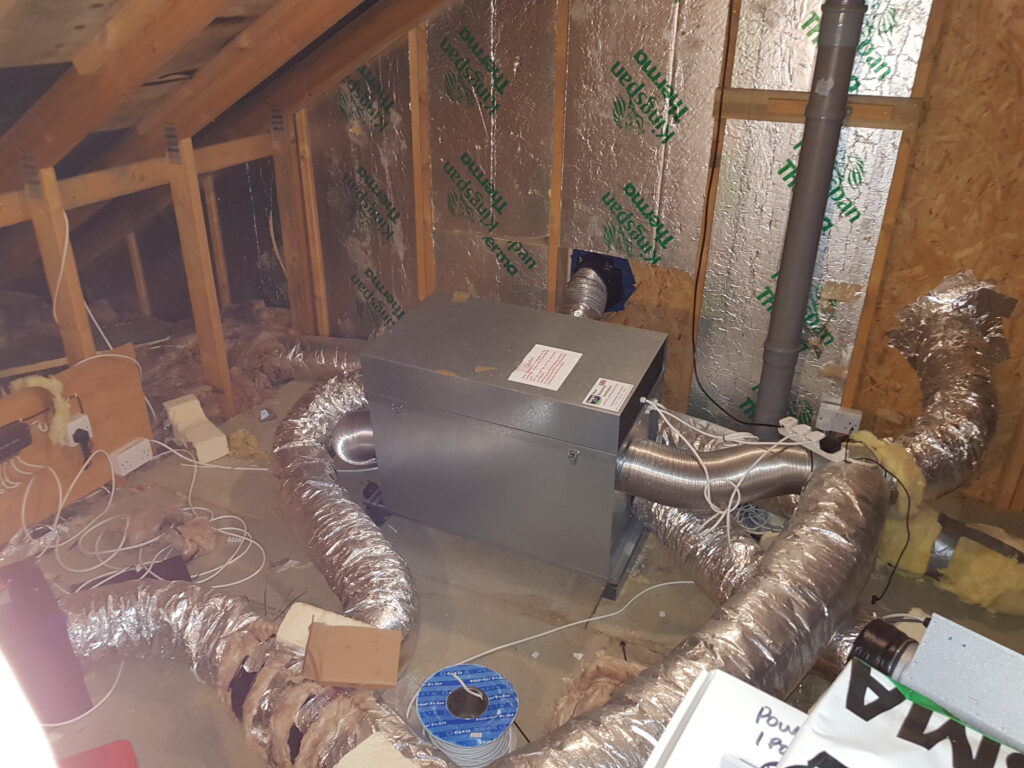 This is a common issue that Heat, Space and Light Ltd hears from customers considering MVHR units – why does the MVHR not work as well as the supplier says?
The answer is that there are two testing authorities in the UK which measure heat exchanger efficiency.
One test is for the SAP Appendix Q list, and this tests in such a way that it can artificially inflate the heat exchanger efficiency if the MVHR is poorly insulated and/or leaky. The other testing regime is the Passivhaus Institute (PHI), which tests in such a way that ambient air temperatures will not affect the heat exchanger efficiency, so this testing is much more accurate. Details on how you can interpret MVHR heat recovery performance before you buy are outlined here.
The newly installed MVHR has been tested by the PHI, so we can trust its stated Heat Exchanger Efficiency as accurate at 90%.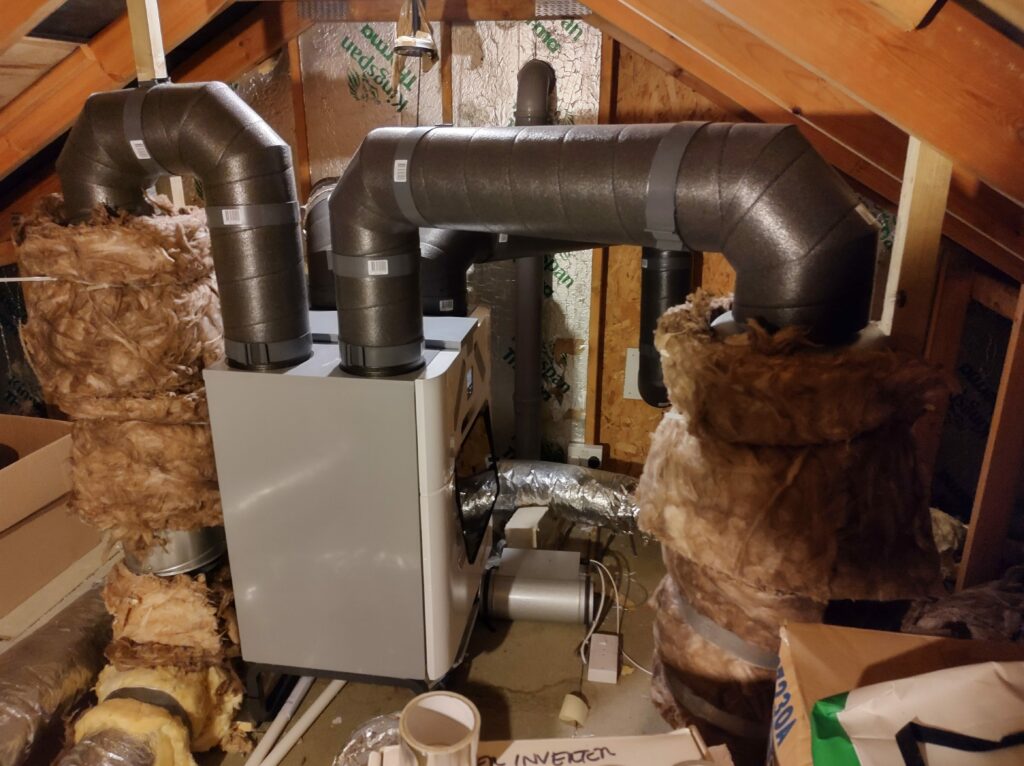 The new MVHR also includes higher performance filters (ISO ePM 1) and is built airtight, which will trap more of the external pollutants before they get into the home. A touchscreen control shows the air temperature and humidity across all four ducts.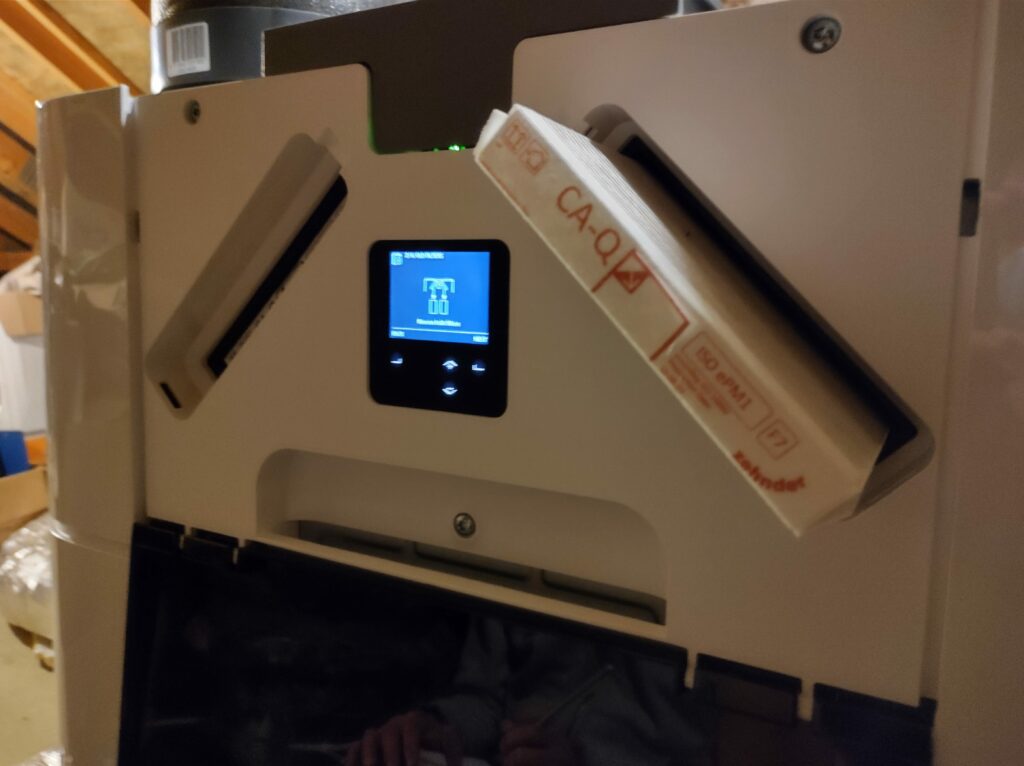 The thick grey ducts are 160mm preinsulated ducting, which were installed to prevent condensation on the pipes and reduce heat loss. Three extra sound attenuators drums were fitted on the Supply, Extract and Exhaust ducts to help mitigate fan break-out noise.
The homeowner said:
"MVHR installation was straightforward and we received really good support from both Patrick at Heat Space and Light Ltd, and from Zehnder. The unit is working very well and we are very pleased with the service provided."
With MVHR, best value is in higher end units
Our recommendation is to always specify the best quality MVHR system possible, as it is an immensely useful technology from an energy efficiency, comfort, health and acoustic perspective when working to its optimum performance.
If a poorly-performing off-the-shelf MVHR is installed it can cause significant problems that may lead to it needing to be replaced later on – which might cost more money in the long run.
If you would like a free MVHR sizing and specification proposal bespoke to your project, please contact us via the link at the top of the webpage.