Forensic Airtightness Testing and Strategy by Heat, Space and Light Ltd has helped a new build home in Dorset achieve a drop in its final airtightness rate that will result in £100s of heating savings every year, turning it from a leaky home to an airtight home.
Forensic air testing improves Air Permeability from 6.4 to 3.1
From an initial Air Permeability level of 6.4 m3/hr/m2 @50Pa at its early construction forensic pressure test six months ago, by locating air leaks and assessing remedial actions to fix them, the new residence has now achieved a final airtightness level of 3.1 m3/hr/m2 @50Pa.
This puts it firmly in the category of high quality, low energy new buildings in the UK.
For new build low energy homes, or ahead of a home renovation, it is a good idea to conduct a mid or early construction airtightness pressure test so that the building fabric is reviewed for leaks or problems before they get closed behind plasterboard permanently.
We conduct forensic airtightness testing during construction when the majority of the external building's walls, windows, roof and floor are in place. Testing allows for a deep analysis of air leaks using a large fan to draw air through any leakage points in the building. It's a good way to check windows have been installed correctly, fix any seals or gaskets, and make sure there are no holes or air gaps before the building is closed up with final finishes.
During a pressure test the fan creates a pressure differential between indoors and outside, and air rushes into air leaks that can be easily tracked and fixed.
In this home, we found missing areas of tape, openings around services to outside that required sealing and missing airtightness detailing around steel beams and junctions between the walls, floor and roof. We issued a report to show how these air leaks could be fixed, with photographic evidence to highlight points of interest.
The remedial actions were inexpensive and straightforward to fix, but they wouldn't have been found if the building hadn't been depressurised to find them.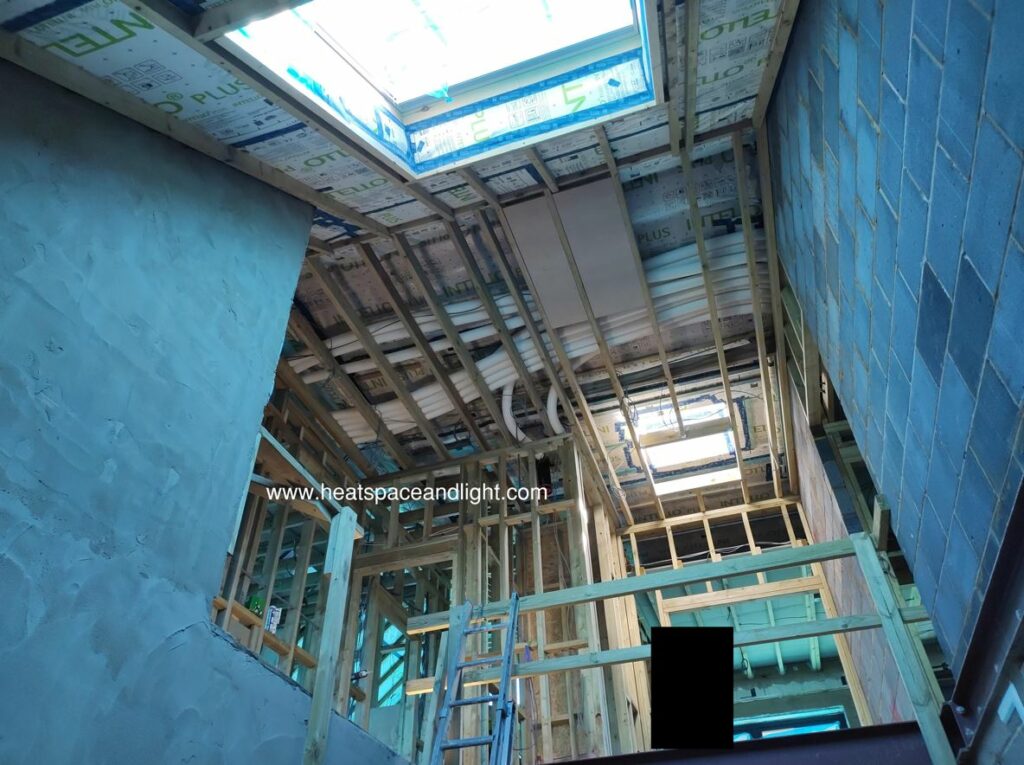 Fixing these air leaks will result in significant annual heating savings – and reduce cold draughts and air leaks which result in discomfort and poor indoor air quality.
This very airtight home is complemented with underfloor heating and an MVHR system to provide fresh, filtered air with heat recovery.
Air testing costs will be paid back within 3-5 years due to lower heating bills
The costs for Heat, Space and Light Ltd to provide airtightness strategy and pressure testing services will have paid back within three to five years of running the home due to the savings made in stopping heated air escaping through air leaks – and the homeowners will benefit from increased comfort and healthy indoor air improvements, which is almost invaluable over the lifetime of the building.
If you would like to receive a quotation to conduct forensic or compliance pressure testing of your property, please contact us here.