As much as 25% of the heat loss of a building is via air leakages in the building fabric (ie, draughts). The airtightness of the building fabric is therefore an important metric to measure and improve as much as possible when building or renovating a home.
Equally, a more airtight building also improves comfort, acoustics and indoor air quality (when combined with good quality ventilation).
Good quality residential ventilation means a mechanical ventilation system with heat recovery (MVHR) system.
And MVHR is best installed in a home which has been built as new or retrofitted to be as airtight as possible.
In this article I'll explain:
how airtight a typical UK home is;
how airtight a home has to be for MVHR and;
what you can do to make your building more airtight.
How airtight is a typical UK home?
We measure how draughty a home is with an airtightness pressure test. This works out how much air passes through the external envelope of the building fabric whilst the building is depressurised at an average 50Pa pressure differential using a big fan and pressure measurement devices.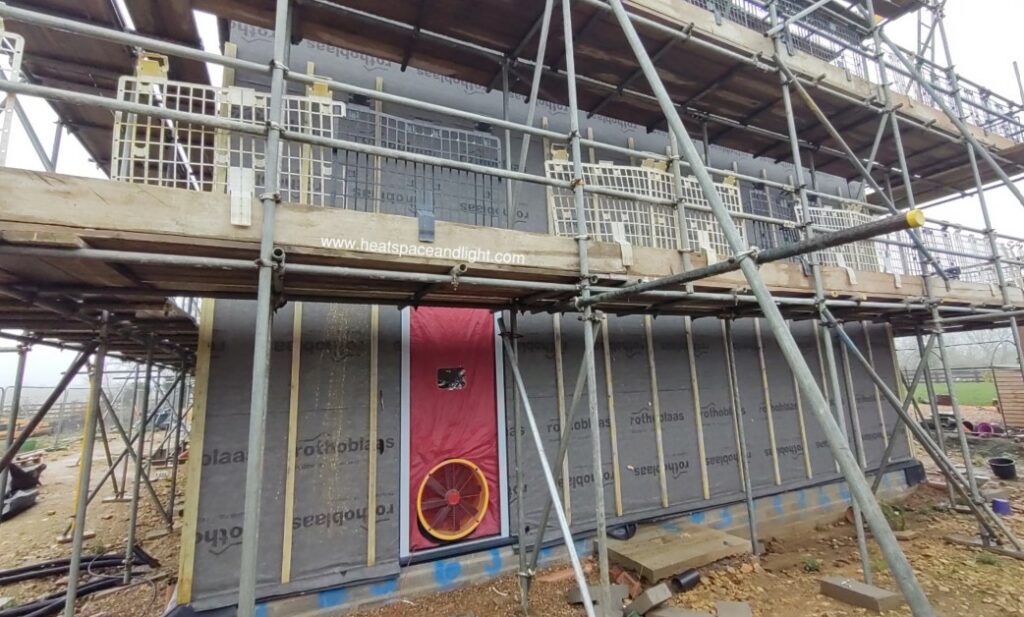 We convert this to a figure that represents the volume of air (m3hr) that passes through an area of building fabric (m2), and this figure is known as the building's Air Permeability (AP).
A typical new build home built in 2022 will achieve an AP of 4-6 m3hr/m2 @50Pa, which is an average airtightness level.
A Passivhaus will achieve an AP of 0.6 – a very airtight building, but this is hard to achieve without good design and good standards of building work.
By comparison, a traditional Victorian or Georgian home was likely built with an airtightness of 15 or more: it was built deliberately leaky to allow constant fresh air to fuel the large coal fireplaces and stoves that were used for heating and cooking.
The average UK home will sit between around 4 – 15 m3hr/m2 @50Pa.
At 15, the home will feel very draughty and be difficult to heat up. Here's a video from a draughty home, showing how the wall sockets are leaking air during a mid-construction forensic airtightness pressure test.
At 4, the home will be largely comfortable and heating up the home will be relatively stable and energy efficient. Anything lower than 4 is increasingly more energy efficient.
In terms of its usefulness in a non-Passivhaus home, The Passivhaus Trust has done some research and evaluated that even in a leaky, draughty home of at least 9 m3hr/m2 @50Pa the MVHR would still pay back from a heating and comfort perspective.
The research paper is available here.
Window trickle vents are a cold air problem
A complicating factor in assessing the airtightness of a home are trickle vents. During a pressure test the trickle vents are kept closed, so their presence is ignored when testing the airtightness of a building. This is very significant for comfort, as trickle vents are freezing in winter.
Building Regulations expects trickle vents to be open for ventilation, even in winter. Our in-house HSL testing has measured that trickle vents add an additional 5 m3hr/m2 @50Pa to the airtightness figure – that's a lot of draughts in winter.
Realistically most people close the trickle vents in winter, reducing ventilation – which can then cause black mould and high indoor humidity.
MVHR homes do not need trickle vents
A home with MVHR needs no trickle vents because it supplies its own make-up air via the heat recovery. That means by installing MVHR a home-owner can instantly lower their actual airtightness level by around 5 m3hr/m2 @50Pa.
Our experience as air testing technicians has been that if a home-owner is renovating the home with modern methods of construction such as new windows, doors, rooflights and insulation it will significantly increase the airtightness of the home.
Removing redundant chimneys and old air-bricks will also easily improve a home's airtightness.
This is because modern insulation, new windows and doors, new floors and roofs are all more airtight by design. With central heating systems, it's no longer necessary to have open fireplaces.
Renovating home without improving ventilation can be risky
Ventilation is strongly linked with building airtightness, and the two form a complex relationship that must always be considered together, particularly as retrofit activities improve one, the other or both.
I sincerely believe that good indoor ventilation is the basis for a low energy renovation, as it means you can make the renovated home as airtight as possible – this will save money on heating as air doesn't escape through draughts.
It also means that with heat recovered you can consider smaller future heating systems, moving the home towards heating technology such as air source heat pumps and solar long term. Plus there are health and comfort benefits to warmed/cooled air in summer and winter.
The risk of renovating a home to modern standards without augmenting the ventilation becomes a very real one of under-ventilating, when moist air can no longer escape through the old cracks and leaks. This is one of many "unintended consequences" that has been seen in modern retrofits.
Therefore if, as part of the building works a homeowner:
removes the trickle vents (if any);

concentrates on the obvious leaks and gaps, and/or;

replaces windows and doors with new versions, and/or;

specifies modern methods of construction
it is inevitable this will improve the airtightness level – so ventilation has to be improved too.
The alternative to MVHR all involve cold air incoming via trickle vents, which is a step backwards. Why go to so much effort and expense to use modern airtight materials only to have drill holes in the windows to fit trickle vents?
How airtight does a home need to be for MVHR?
MVHR is the only ventilation that pre-warms the incoming air, often up to 18 Deg C in winter.
Trickle vents and air-bricks also allow noise pollution from outside to track easily into the home, whereas a more airtight home with an MVHR system results in a much quieter indoor environment.
In conclusion, if you're renovating or building a new home in 2022, a comfortable aim for airtightness would be around 5 m3hr/m2 @50Pa or lower, removal of all trickle vents and the installation of an MVHR system.
At HSL most of our building projects achieve low airtightness scores, with over 50 per cent achieving an airtightness level of 1 or better.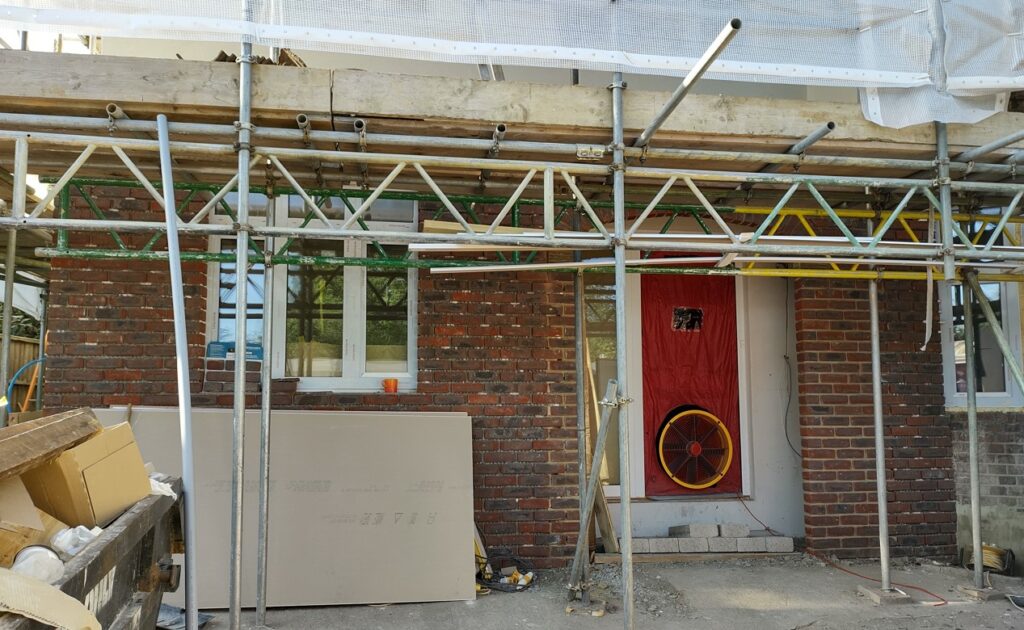 Plus once the MVHR ducts are in, they can stay in for life.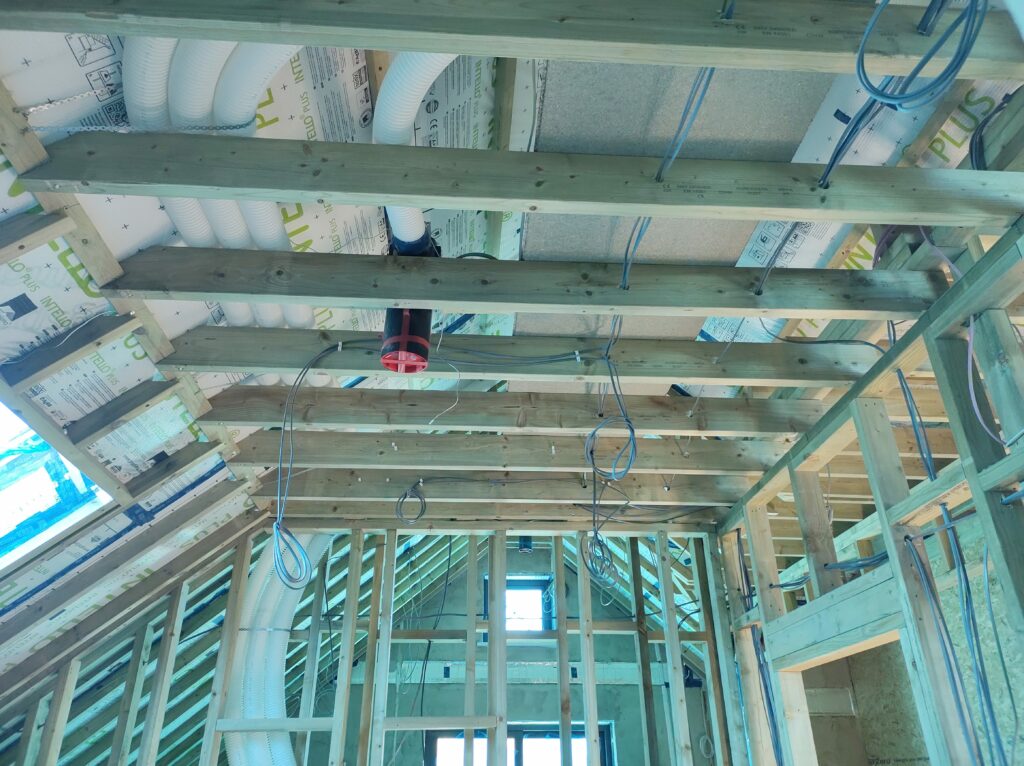 We can help with the design, supply and commissioning of MVHR systems – submit your details here for a free MVHR proposal, or contact us about your airtightness testing needs at the contact page.