This article will explain the full cost to fit a high performance MVHR system in a new build or renovated home in the UK, updated for 2023 prices.
If you're building or renovating to energy efficient, high comfort and healthy air quality standards and you and your contractor are working hard to make sure the building fabric is as airtight as possible, you will need mechanical ventilation in order to supply the fresh air you need to keep the air healthy and expel CO2 and other dirty pathogens in your home.
Mechanical Ventilation with Heat Recovery units (MVHR or HRV systems) are the gold standard for supplying air into your home and extracting waste, humid air. Because the highest-quality units recover around 93-96 per cent of the heat you've already generated in your home and transfer that heat to the incoming fresh air from outside in winter, they're also hugely economical.
But there are costs associated with installing a good quality MVHR / HRV system, all of which I'll run through now. You'll find estimate pricing below for 2023 prices, but if you would prefer a free bespoke MVHR sizing and specification for your own build project please complete our form here and we'll send you a proposal with all of the details. 
Please note, these costs are for incredibly quiet MVHR systems using high quality units and materials – never PVC ducting or flexi-duct which can cause acoustic and air quality issues.
The below costs example, for a home of approximately 200m2 (2,000 sq ft) with four bedrooms, one bathroom, two en suites and a utility room, is updated for 2023 prices and for the UK market.
How much does designing an MVHR system cost?
First step, you will need a design of the MVHR ducting layout routes around the home. Designing an MVHR system in a 200m2 semi-detached home with perhaps one bathroom, two ensuites and three or four bedrooms will cost approximately £525 ex VAT for a full detailed ductwork design service schematic. 
Be wary of "free" MVHR designs – they are often rushed and cause issues with the trades on site during the build, eg, by missing structural conflicts such as steel beams that the builder later has to either duck under ("boxing in) or drill through, adding costs for labour and reducing structural integrity. A paid-for designer will spend time working out ways to move around structural elements without boxing in or drilling through unless necessary.
MVHR suppliers offering "free" designs often also hide the actual design costs by using cheaper materials in the supply costs to increase their profit margin.
For our design team it takes minimum one and up to four weeks to design a proper residential MVHR system from scratch, and our design team will usually request:
structural and architectural layout drawings (in pdf) – or even paper sketches will do;
guidance on any lowered ceilings, risers or voids;
electrical layout diagrams, if available (so room valves don't conflict with lighting layouts)
If you only have hand-drawn sketches of the property, .
When should I design my MVHR / HRV system?
MVHR duct design should be done early enough in your build programme that the ducting can be installed before first fix plumbing and electrical services.
This is because every extra bend or turn in your MVHR ducting layout will increase air disturbance, which could lead to a noisier system. Hence, diverting wiring or plumbing is a much better idea than diverting ducting. Good MVHR designers like ourselves will minimise the number of duct bends, but that's no good if you get on site and the plumber has already blocked off all of your service runs.
Luckily, we can design MVHR systems very quickly, so don't worry if you're worried that you've left it too late. Our design team can turn around a detailed MVHR ductwork design in a week, and have the materials on site ready at short notice.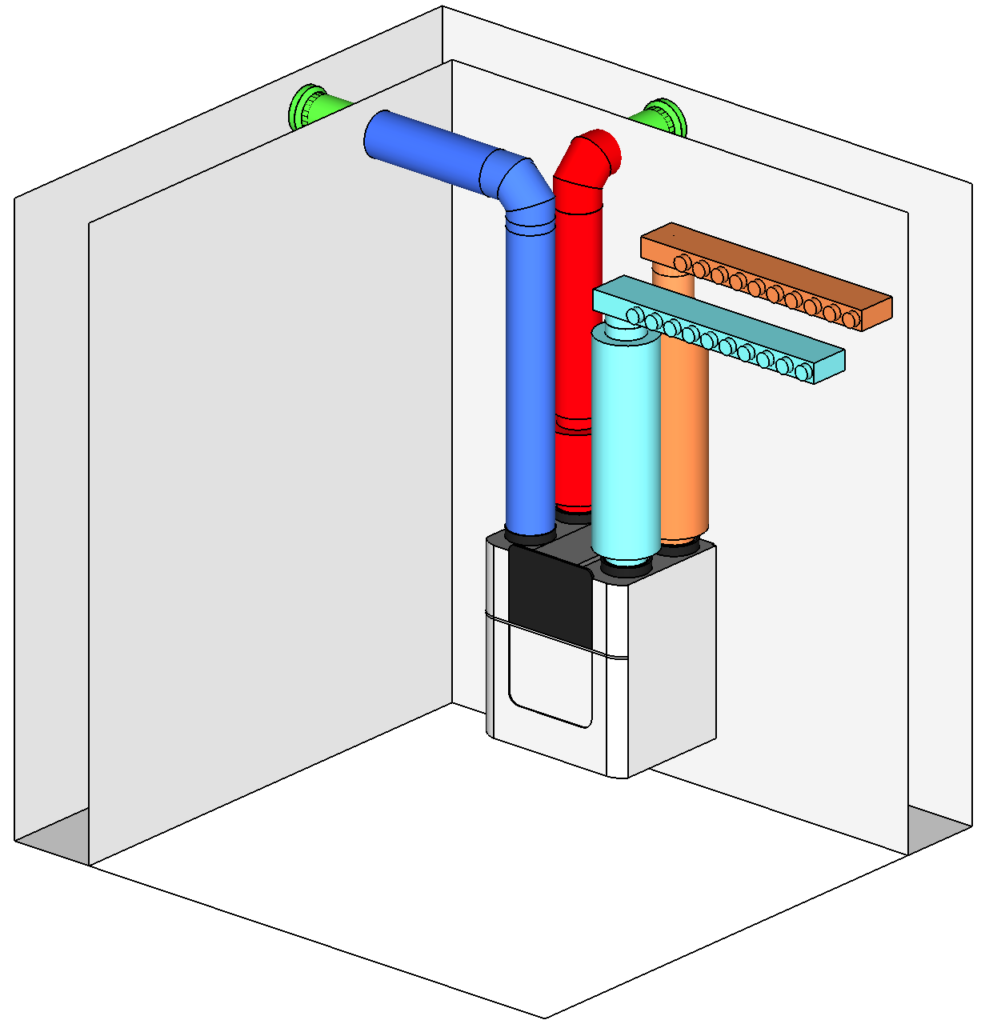 How much do good MVHR units cost?
A top quality MVHR unit from Brink or Zehnder (the premium Passivhaus-Institute accredited models with the easiest maintenance, best controls and quietest fan motors) will cost between £1,500 ex VAT to £2,600 ex VAT depending on whether you require a BRINK 325 or 400, or a Zehnder CA200, Q350, Q450 or the largest Q600 MVHR unit. Although inflation has raised prices across the board for MVHR units and materials in 2020 and 2021, our prices are still a lot better value than other online ventilation retailers.  
An MVHR unit should include as standard:
a touch panel (either in-built or as a separate control), so you can programme and commission the unit;
frost protection, so cold wintry air doesn't damage the unit
automated summer bypass capabilities, so that when it's hot outside the heat recovery element turns itself off to help with cooling the air
EC centrifugal motors, the quietest and most efficient on the market
G4 and/or F7 filters
If you want more from your MVHR there are lots of additional extras:
Comfort cooling, a small addition to the MVHR unit with a cooling feature on the supply air ducting for ho

t days. Adding cooling to an MVHR costs £2,795 ex VAT for the ComfoCool as of 2023. Please also consider around labour and materials for wrapping the supply ducts in closed-cell insulation.

an enthalpy exchanger, which helps to maintain moisture levels in the home in winter when the air is dry would cost an additional £190 +VAT with the standard Zehnder Q unit as of 2023.

A ComfoPost, which links a chiller coil in the MVHR duct to a reversible air or ground source heat pump, costs around £900 ex VAT, but can provide a significant amount of cooling 

Plus much, much more – please contact me if you have any questions.
A final point to note about MVHR units is that due to global supply chain issues for high performance fans and electrical chips in manufacturing, delivery leadtimes for the highest performance MVHR units have grown to up to thirty weeks, so ordering early in the project is advised to ensure the unit arrives in good time.
How much do MVHR ducting, valves, manifolds and silencers cost?
In 2023, ducting and all materials for the entire MVHR system for a high performance 200m2 home will cost approx. £2,900 ex VAT. For smaller homes, this will be more economical. 
Although prices have been discounted in recent years, we've seen a general trend of inflation amongst MVHR product costs from the best suppliers, so the earlier you can source your MVHR system, the better.
For a 220 – 320m2 home, ducting and all materials for the HVAC system will cost approx. £3,550 +VAT. 
For homes larger than 350m2 up to 460m2, ducting and all materials will cost approx. £3,950 ex VAT.  
However, there are a number of variables to consider that can lower the price:
The layout of the home – how tricky is it to run ducting?
Will steel or semi-rigid HDPE radial ducting be used?
Is the ducting going into tight ceiling voids? Proprietary plastic oval rigid ducting for smaller voids is a bit more expensive
Will your system be designed as a radial system or a branch system? Ie, will each valve run come from the MVHR unit through a manifold, or will you have a single main duct run for each supply or extract length, with each room branching off? Radial systems save money on sound attenuators because you don't need as many.
Be wary of MVHR suppliers who offer a low price for materials but fail to include sound drum attenuators (silencers) in their pricing – drum attenuators are vital to dealing with noise, but they are expensive, so less scrupulous MVHR suppliers may "forget" to add them in the cost so that their materials quote seems cheaper – but the sound attenuation will be missed once the MVHR is running…
Also be wary of suppliers who use flexible duct and flexible silencers in their system – these are not the same as steel drum attenuators. Flexible silencers cost pennies to make but don't offer anywhere near the same acoustic deadening, plus they can crush and tear easily, reducing performance.
If the supplier is also offering a cheaper unit and a "free" design it means the sound risk is seriously elevated – so additional sound attenuation is a must.
You also need to consider closed-cell insulation, room valves (plastic or steel? Fancy or plain?), condensate traps, strapping, plenums, manifolds, o-rings, spiral steel ducting, external grilles or cowls, strap-banding, screws and boost controls (and any associated wiring costs – unless it's a Wifi version).
How much to install an MVHR system in the UK?
Installing an MVHR or HRV system via a professional team will cost around £1,000 – £4,000 ex VAT in 2023 depending on the size of the home (100m2 – 400m2+). 
But our team can help you save money by guiding a self- or DIY-installation by your builder or tradesperson, as our radial ductwork system is exceptionally straightforward to install – particularly using our easy-to-follow design report documents and dedicated advice. Most of the ducting works can be done with basic tools, with only the steel ducting to be cut with an angle grinder and drill, and core drilling potentially for the external Intake/Exhaust outlets.
For you or your builder, a radial MVHR system self-installed rather than by a HVAC contractor can save a lot of money on install costs – and the performance is superb.
Professional MVHR installers will normally request that all of the ceilings are open and that building works (creating inlet/outlet holes for ducting) is already completed – by your contractor usually. Installing an MVHR system will take a few capable installers about three to five days. First fix is done ahead of first fix plumbing and electrics, with everything set in place up to the valves. Second fix can be done post-decoration, and commissioning will follow.
Be wary of unknown installers, as quality can vary significantly even amongst the "professional" HVAC installers. We can recommend MVHR installers that we know are competent and fairly-priced – feel free to ask us via our contact page.
Every MVHR design we produce we also commission, balance and hand over, plus we perform a 36-point quality check post-installation to make sure it's been installed correctly.
We also hold MVHR toolbox talks on the building site for new installers if they're keen to understand the MVHR system before they start.
How much does it cost to balance and commission an MVHR system?
Commissioning is a crucial aspect of installing an MVHR system. You've spent all that money installing it, and now you need to make sure the airflow is balanced to each room to run quietly and efficiently. Your Building Control Officer will also want to see a certificate of performance for practical completion of buildng works.
Beware those MVHR suppliers who either don't offer commissioning, or don't convey its importance – the fine tuning at the commissioning stage is vital to ensure the MVHR system works properly – and it's not easy to do without calibrated equipment for measuring airflow.
Your MVHR designer will have assigned airflow rates to each individual room in your property at a set rate based on a number of factors, the most important of which will be ensuring the property meets Building Regulations Part F and Passive House standards for healthy airflow. For example, kitchens need to extract a minimum of 46 cubic metres of airflow per hour in "boost" mode to deal with the smells, heat and moisture that's created from cooking and socialising.
Commissioning and reporting on the MVHR system will take a competent technician a full day using a calibrated balometer. If they find significant leaks or they need to come back for any reason (because the unit isn't functioning, for example), you may be billed again for the return – but with our systems, it's rare we have to return.
Commissioning also produces the Ventilation Certificate for Building Control compliance.
Commissioning an MVHR system costs approx. £575 ex VAT for the average 200m2 home.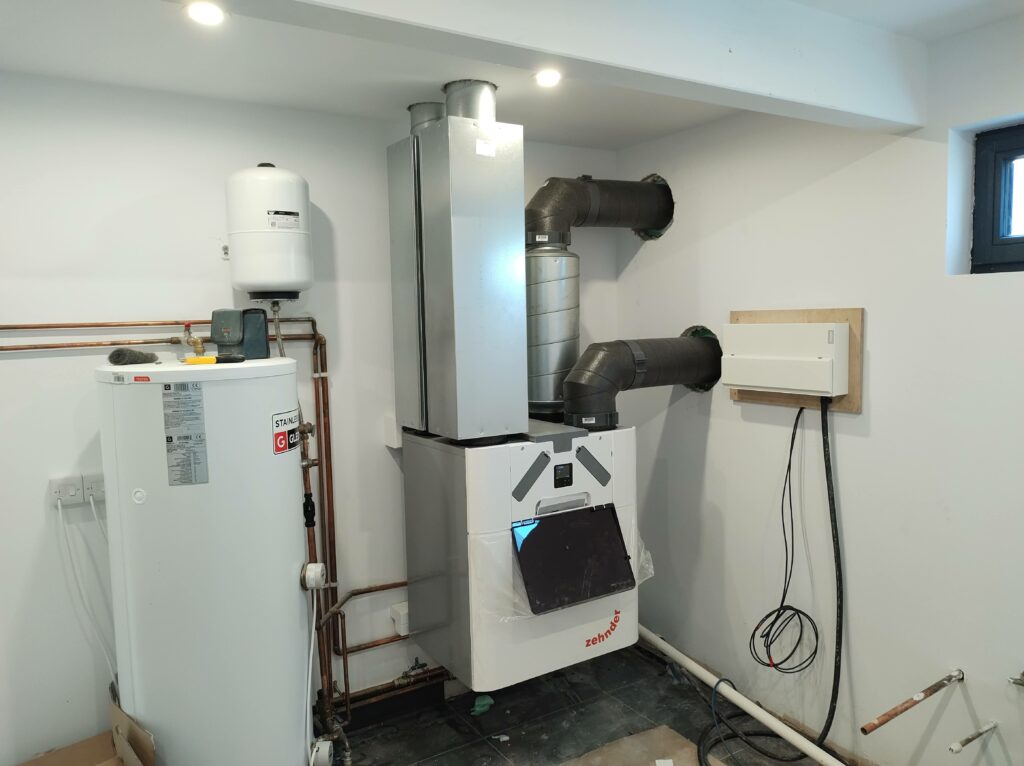 How much does an MVHR system cost altogether?
For a 200m2 (2,000 sq ft) home in the UK with a top-of-the-range MVHR unit and ducting, designed, supplied and commissioned properly, will cost:
£575 +VAT for a detailed MVHR design service
£1,847 +VAT for a high performance MVHR unit (eg, a Zehnder Q350 with pre-heater)
£2,950 +VAT for the ducting and all materials (valves, manifolds, plenums, sound attenuator drums, insulation, etc)
£575 +VAT to commission the MVHR system
Which is a grand total of £5,947 +VAT for a full turn-key MVHR design, supply and commissioning service.
Installation can be done as a self-install, DIY or installed by a contractor team for between £800 – £3k ex VAT (price will vary by region).
A properly designed and commissioned MVHR will guarantee healthy, fresh, filtered air throughout your home, working silently in the background, for more than 25 years ideally. Our MVHR systems come with a six year warranty, and F7 filters cost around £19 ex VAT a year to change.
I want to make sure as many homes as possible receive the benefits of a high quality MVHR system, so if you'd like any help, guidance or pricing for your MVHR system, please contact me via the Contact Us page, send an email to patrick [@] heatspaceandlight.com, or fill out the MVHR sizing tool at the top of the page.
Finally, how much does an MVHR system cost to run annually?
If you have a very airtight home (less than 5 air-changes per hour, ACH), then you should save money on your heating bills with an MVHR system, as it recovers heat and flows it back into the property. It costs approx.£15 – £40 per year in electricity to run an MVHR system constantly, but you might save a lot more than that on heating bills because it is recovering up to 90 per cent of the heat that would normally be lost to leaks and draughts in the building fabric.
The payback rate for an MVHR system (aside from all of the comfort and health benefits of having fresh, filtered air at an even temperature all year round) could be 15 years or less – that's actually a better payback than solar panels whilst also providing increased comfort and healthy indoor air.
Finally, here's a video of one of our MVHR systems, and how quietly it runs when properly designed, supplied and commissioned by our team: